be.

So
urce 

aims to develop synergies between its partners by offering a platform for exchange and reflection, a range of training programmes as well as advice in its own fields of expertise, including communication, finance, law, ethics and social entrepreneurship.
SILVER EMPOWERMENT
be.Source and HIVA KU Leuven found each other in a joint mission and vision 'Silver Empowerment'. The aim of the KU Leuven Chair 'Empowerment of underprivileged elderly' commissioned by be.Source is to promote research about (vulnerable) elderly, especially on psychosocial aspects affecting elderly. The main question is: 'How can we strengthen elderly people living in precarious circumstances and improve their connection to their surroundings and society so that they can experience a higher quality of life?'. In partnership with be.Source, HIVA KU Leuven wishes to stimulate a more positive image of elderly and enhance solidarity in our society
EMPOWERMENT FLOWER
CAHIER 1: LONELINESS AND SOCIAL ISOLATION AMONG ELDERLY. AN EMPOWERMENT PERSPECTIVE
In this research paper we gain more insight into loneliness and social isolation among elderly and into innovative interventions that could alleviate this, based on an empowerment perspective. According to scientific research, 46% of the Belgians of 65 years or older feel lonely and 32% have a small social network. This is alarming because loneliness and social isolation significantly affect other life domains (physical, psychological, social) and quality of life in general. In this respect, various tailor made interventions are needed, and the principles of empowerment seem to be very important characteristics for practice.
READ
CAHIER 2: RESILIENCE OF VULNERABLE ELDERLY. A NARRATIVE RESEARCH APPROACH
Based on narratives of 15 vulnerable elderly, this research paper investigates which sources of strength elderly use to deal with adversities. Elderly use various interrelated sources of strength which can be found in the individual, interactional and contextual domain. We find that resilience processes take time, especially when they concern changes in social networks and emotions (e.g. loneliness). Sufficient psychological support seems to be important. Further, organizations must create 'enabling niches' through which resilience is improved, and society has to offer more opportunities for elderly to contribute because the 'power of giving' appears to be of paramount importance to safeguard a high quality of life.
READ
CAHIER 3 : A QUANTITATIVE PICTURE OF LONELINESS AMONG ELDERLY IN BELGIUM AND EUROPE
In this third research report we gain more insight into how to alleviate feelings of loneliness among elderly in Belgium and Europe. We ascertain that 22% of the Belgian and 27% of the European elderly of 65 years and older felt lonely in 2017. This is alarming because an extrapolation of these percentages to 2020 imply that at the moment about 500,000 Belgian and 28 million European elderly feel lonely. Further, we find that loneliness is distributed very unequally among different groups in society. Certain groups are lonelier than others, such as the 'older' elderly, elderly with a worse health situation, a smaller social network or with a lower income. Elderly with a migration background also seem to be more confronted with loneliness than those without a migration background. As a result, it is essential to take these specific factors into account if we want to take efficient measures to alleviate feelings of loneliness.
READ
CAHIER 4 : FAMILY CARE FOR COMMUNITY-DWELLING OLDER SENIORS IN TIMES OF CORONA: THE POWER OF GIVING AND/OR A BURDEN OF CARE?
...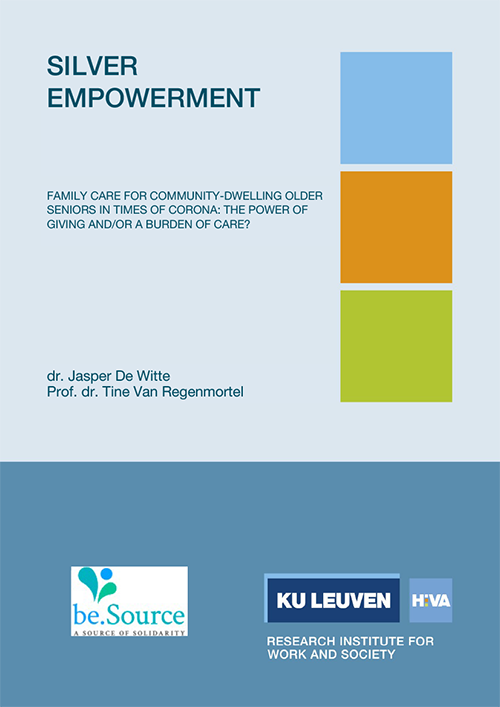 READ
be.Source brings together a large pool of skills. Management, communication and legal issues, to name but a few.
Would you like to use your expertise to help disadvantaged elderly people?
By joining our network, you will receive specific training, guidance and coaching to enable you to help the elderly more effectively. To that end, be.Source provides tailor-made training for volunteers and service providers from partner associations and institutions, coaching sessions to improve management as well as legal and financial advice.
​​
In order to develop synergies between the institutions and associations, a platform for exchange and reflection has been set up in 2016.
This platform, which meets every two months around subjects related to the inclusion of the elderly, offers and implements concrete actions, such as joint training, the joint production of booklets, the organisation of seminars, workshops or other activities. It also helps to define the needs and priorities regarding programmes of assistance to elderly, vulnerable persons.